We offer comfortable and punctual airport transfers 24/7 to and from Arlanda, Skavsta, and Västerås.
Book Airport transfer with Axelssons
Axelssons Turisttrafik is your reliable partner for punctual and comfortable airport transfers 24/7 to and from Arlanda, Skavsta, and Västerås. Whether you are a large group or a smaller party, you can trust us to provide a smooth and dependable transportation solution.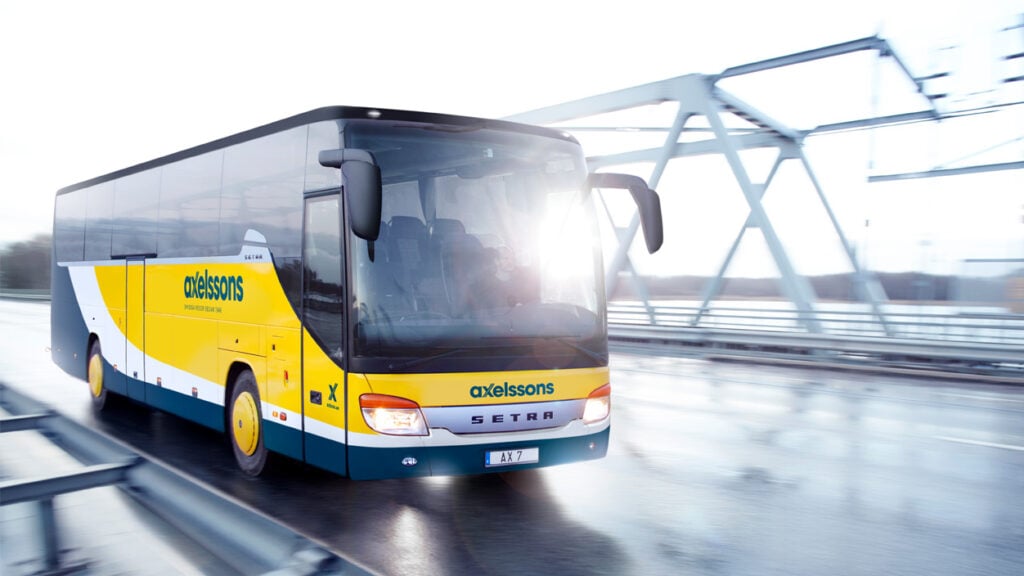 Spacious luggage space for all your baggage
We understand the importance of starting your journey in the best way, and our buses are equipped with ample luggage space to accommodate all baggage. You can be assured that you will have enough room to travel comfortably and that your belongings will be safe throughout the journey.
A smooth trip to Arlanda Airport
Arlanda Airport is located about 26.1 miles outside of Stockholm city, and with our airport transfers, you can rest easy knowing that you will arrive on time and in a safe manner.
Book your trip today with Axelssons Turisttrafik
Contact us today to book your airport transfer and let us take care of your journey to and from the airport.
Travel smoothly to Arlanda
With our airport transfers, you can rest assured knowing that you will arrive on time and in a safe manner.
Professional drivers for your peace of mind
Our experienced drivers are well-acquainted with the roads and take the best routes to avoid traffic and delays. We prioritize punctuality and safety, and our staff goes above and beyond to ensure you reach your destination on time and with minimal stress.
Eco-friendly travel with Axelssons Turisttrafik
When you choose to book an airport transfer with us, you can take pride in knowing you're contributing to an eco-friendly journey. Taking a coach is one of the most environmentally friendly options for group travel to and from the airport. Instead of each individual taking a separate car, you can travel together in a single coach, reducing the overall carbon footprint and positively impacting the environment.
Additional services for your complete travel experience
Beyond our airport transfers, we also offer added services to make your journey even more complete. If you require transportation during your stay, we can assist in arranging sightseeing tours or excursions to various locations. We can also offer customized catering options on board the coach to meet your needs and preferences.
A comfortable journey from start to finish
Our focus is always on providing you with a pleasant and comfortable journey. Our coaches are well-maintained and offer modern amenities to ensure your comfort throughout the trip.
Stay connected on board with our WiFi
You can relax and enjoy the journey while staying connected with our onboard WiFi offering.
Wi-Fi onboard
You can relax and enjoy the journey while staying connected with our onboard Wi-Fi offering.
We make the journey part of the experience
Many of our customers are travel organizers, event agencies, and PR firms who want to deliver a unique experience to their clients. They choose us as a partner because they know we are just as committed to a successful event as they are.
Axelssons Turisttrafik is a large family-owned company. Large enough to handle all types of orders and small enough to offer personal service and genuine dedication to all our customers. Booking transportation with us is easy, fast, and cost-effective.
We have been working with companies, organizations, and associations since our inception in 1981, and we know what's important. Safe and environmentally friendly buses with high comfort and experienced drivers who are passionate about service.
Our well-trained drivers always provide a professional service. Their personal commitment, experience, and knowledge form the basis for a completely smooth journey.
Many of the groups we transport have needs that go beyond just getting from A to B. Daily, we assist with things like catering, branding, guiding, and other important aspects you need to deliver a successful event.
Call us at +46 21-14 42 42, and we'll tell you more about how we can assist you.
We assist you with all types of coach journeys
Traveling with a coach company that cares about sports makes a difference. Let us help your sports team achieve more than just athletic success!
Make the most of your time, start the conference on the coach! With a conference coach, you can initiate group work and discussions during the journey!​
Let us help you plan your trip! Traveling in a group is incredibly fun. Even the journey to and from Arlanda can be a significant part of the experience.
Trained and experienced school drivers safely and smoothly transport your children to wherever you wish. Whether it's a class trip, an outdoor day, or the mountains, contact us, and we'll take you there.
Do you want to know more or have any questions?
We are happy to answer your questions. Call us, and we can assist you with your specific inquiry!