Being part of GPN means that we meet the strict requirements set by the network on its members.
As part of the global network Global Passenger Network (GPN), Axelssons Turisttrafik is proud to represent GPN in Sweden along with Ellénius Buss. GPN is an association of some of the world's leading bus companies, and its purpose is to ensure that customers receive the same high level of service no matter where they are in the world.

Meeting the strict requirements of GPN ensures quality and safety
Being part of GPN means that we meet the stringent requirements set by the network for its members. Only professional operators who can guarantee quality, safety, and reliability are allowed to be part of GPN. By choosing Ellénius Buss, you can be assured of receiving top-notch service and a seamless transport experience, whether you are traveling within Sweden or to other parts of the world.
GPN's global reach and benefits
What makes GPN so unique is its extensive global presence. Through the network, we have established contacts with reliable and quality-oriented transport companies in over 40 countries around the world. This means that no matter which country or destination you plan to visit, we can help you arrange a reliable and professional transport solution on-site. You can trust that we have access to a wide range of high-quality buses and experienced drivers who can deliver the service you expect.
A consistent service standard on a global level
For companies, groups, or associations conducting international travel, it is of the utmost importance to have a reliable and coordinated transport solution. By partnering with us and being part of GPN, you can rest assured that we can handle your transport needs worldwide. We work closely with our GPN partners to ensure seamless transitions, punctual arrivals, and a consistent service standard no matter where you are.
Tailored comprehensive solutions for your trip
In addition to offering you a global transport solution, we can also assist you with other aspects of your trip. Our experienced team can help you with logistics planning, arranging sightseeing tours, and booking accommodations and event experiences. By leveraging our international contacts and expertise, we can tailor a comprehensive solution that meets your specific needs and preferences.
Your trust, our priority
You can rely on our professionalism, reliability, and dedication to delivering top-notch service whether you are traveling within Sweden or to other parts of the world. Contact us today to discuss your international transport needs and let us be your trusted partner for a smooth and safe global journey.
About Global Passenger Network
A global collaboration among the world's leading bus companies. Members in over 40 countries. Customers receive the same high-quality service abroad as they are accustomed to in Sweden. GPN has high standards for its members. Only professional actors in the GPN network.
We make the journey part of the experience
Many of our customers are travel organizers, event agencies, and PR firms who want to deliver a unique experience to their clients. They choose us as a partner because they know we are just as committed to a successful event as they are.
Axelssons Turisttrafik is a large family-owned company. Large enough to handle all types of orders and small enough to offer personal service and genuine dedication to all our customers. Booking transportation with us is easy, fast, and cost-effective.
We have been working with companies, organizations, and associations since our inception in 1981, and we know what's important. Safe and environmentally friendly buses with high comfort and experienced drivers who are passionate about service.
Our well-trained drivers always provide a professional service. Their personal commitment, experience, and knowledge form the basis for a completely smooth journey.
Many of the groups we transport have needs that go beyond just getting from A to B. Daily, we assist with things like catering, branding, guiding, and other important aspects you need to deliver a successful event.
Call us at +46 21-14 42 42, and we'll tell you more about how we can assist you.
Organizing a trip can be challenging. That's why we offer a simple process to help you succeed. Simple & safe all the way – from inquiry to invoice.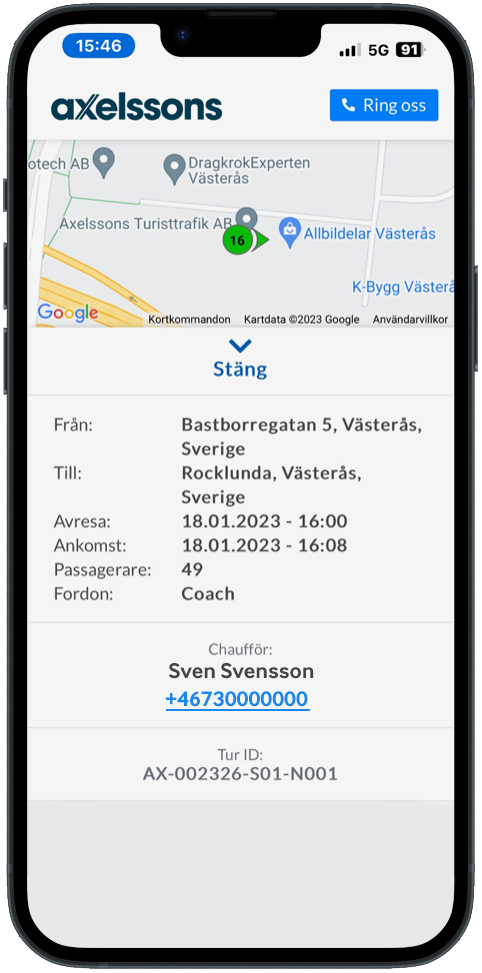 We assist you with all types of coach journeys
Traveling with a coach company that cares about sports makes a difference. Let us help your sports team achieve more than just athletic success!
Make the most of your time, start the conference on the coach! With a conference coach, you can initiate group work and discussions during the journey!​
Let us help you plan your trip! Traveling in a group is incredibly fun. Even the journey to and from Arlanda can be a significant part of the experience.
Trained and experienced school drivers safely and smoothly transport your children to wherever you wish. Whether it's a class trip, an outdoor day, or the mountains, contact us, and we'll take you there.
Do you want to know more or have any questions?
We are happy to answer your questions. Call us, and we can assist you with your specific inquiry!